Testimonials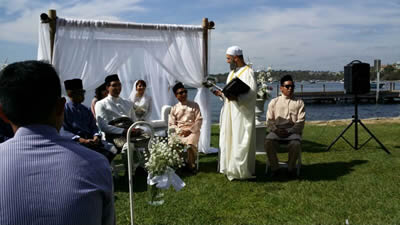 Thank you very much Imam Hisham
Thank you very much for your guidance in organizing and conducting our wedding ceremony. You were very professional, patient and tremendously helpful in guiding us through the marriage process. Your support made us both very comfortable throughout preparation and during the wedding ceremony. We are blessed to have had you celebrate our wedding. We will forever cherish that special moment and hope very much we keep in contact.
Khairul & Laura
Jazakullah Sh Hisham
We loved your service and support throughout the marriage process. The talk and Khutba was beautiful, and we loved the way you made everyone feel so comfortable, specially the non Muslims guests. Our day couldn't be any better than what it was. We do highly recommend your services for anyone looking for a Muslim marriage celebrant.
Ahmed & Gabi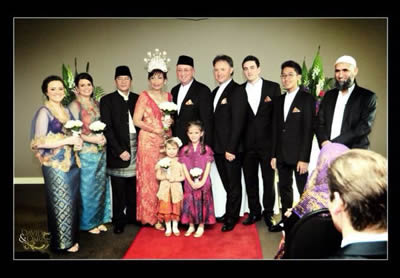 Shukrun Imam Hisham
May Allah reward you for conducting our Muslim marriage, you did a fantastic job and we had such lovely comments about you from our guests. We loved how you supported and advised us right through the process, you made us feel so comfortable and you had everything running so smoothly and stress free. Defiantly recommend you to others.
Hakim & Samira
Jazakullah Sh Hisham
Thank You for conducting our wedding so beautifully. The ceremony was just what we wanted, relaxed and friendly, with lots of joy and laughter. We received many compliments after the ceremony on your behalf. Thank you for guiding us through the process and making it easy, we will certainly recommend you to our friends.
Bashar & Lesley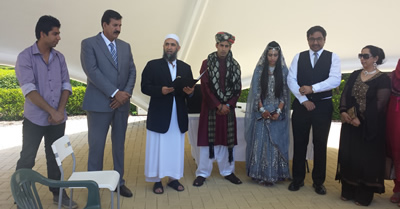 Shukrun Imam Hisham
We sincerely wish to thank you for your services. Phillip was very nervous before accepting Islam but you make it so simple. The talk you gave was so easy to understand and set a good example to the non Muslims present. The ceremony afterwards was just what we asked for and we had a lot of good feedback from our guests. May Allah reward you.
Laily & Phillip
Thank You Imam Hisham
We highly recommend Imam Hisham as an Islamic Marriage Celebrant, he conducted our ceremony in such a warm and professional manner. He answered all our questions and gave us good advice. Made our day stress free and enjoyable. Thank You!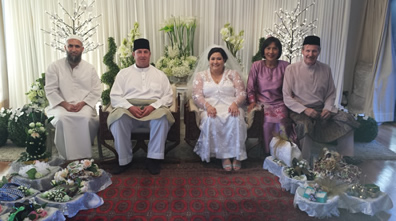 Haval & Hozan
Assalam Alaikum
Alham Dulillah! Our beautiful wedding went smoothly with the help of sheikh Hisham. Very well executed, professional, easy going and very informative with the proceedings. All in all the Nikah was simple and according to the Sunnah.... Jazakullah! Barak Allah Feek.. May Allah reward you good Sheikh!
Idris & Kate
Thank you so much Imam Hisham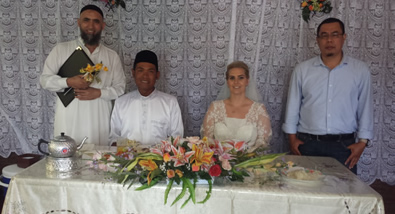 For the wonderful ceremony and speech you preformed at our Nikah. I sincerely felt a great sense of gratitude for the service you provided. Your speech during the ceremony touched the hearts of all who attended and made us feel appreciative of this beautiful bond we have just formed. Imam Hisham's way of highlighting the duties of a husband and wife was one of the many reasons We highly recommend him for any wedding event. He makes this new bond sound so pure and promising. His way of carrying out the speech taught us that marriage is not just something on paper, but involves love, respect, trust, understanding, friendship and most importantly being there for each other. Thank you Imam Hisham, you made us all very emotional.
Ibrahim and Muneeza